Professional Grooming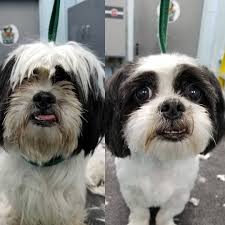 We offer professional grooming 7 days a week
Please call as far in advance as possible as we do book up
(or ask to be added to our wait list)
Fees are based on- Breed, Size, Cut, Coat, Condition, Services and Temperament
Please understand that we CAN NOT give you an exact price before the groomer meets you pet. All phone quotes are industry standard, and will be adjusted (up or down) upon introduction.
If you come in with a matted dog that needs extra time, there will be an additional fee.
To avoid this charge please properly care for and groom you pet on a regular 4-5 week schedule.
We reserve the right to discontinue service due to aggressive behavior and you will be responsible for all fees incurred.
THERE IS A $40 FEE FOR ALL "NO CALL/NO SHOW" GROOMING APOINTMENTS. NO EXCEPTIONS!
All appointments must be canceled a minimum of 24 hours prior to appointment to avoid this fee
There is a $5 late fee for every 15 minutes you are late for your grooming appointment.
A $35 Late fee will be applied for dogs left for an unreasonable amount of time. In addition to the late fee you will be charge of $30 for every half hour we have to wait for you past our posted closing times.